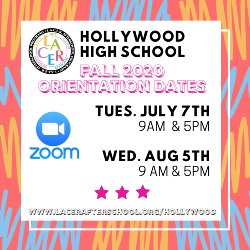 What

LACER Parent/Student Orientation @ 9am & 5pm

When

7/7/2020

Where

Register at https://www.lacerafterschool.org/hollywood
L.A.C.E.R. Afterschool Programs will be providing their first orientation to begin next Tuesday, July 7th at 9am or 5pm. Please register below with a date and time that works best for you. We will be discussing how programming will look in the Fall and answering any questions you may have. We look forward to seeing both parents and students at the orientation Thank you!