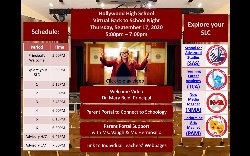 What

Virtual Back to School Night

When

9/17/2020, 5:00 PM

–

7:00 PM

Where

https://docs.google.com/presentation/d/e/2PACX-1vR6ZSqaC-mkWX6cM4NGcr9AWyuGZ0jH6k9obPC-WtPNZwSRbmBwRaVl0IqCAVJ2zA/pub?start=true&loop=true&delayms=1000#slide=id.p1
Parents and guardians, please join us this Thursday, September 17, 2020 at 5:00PM to meet your child's teachers, learn about their classroom expectations, curriculum, syllabus, and projects for the semester. Click on the interactive slide to connect watch the videos or presentations and connect with the teachers in Zoom or Schoology Conference sessions. If you have a Schoology account, you can enter your child's classes and meet with the instructors. If you need a Schoology account, you can click on the link for the Parent Portal. Ms. Vaughn and Mr. Hermosillo will be available to assist should you need help.

Click on the link to the SLIDE for the principal's welcome video and visit teachers virtually.